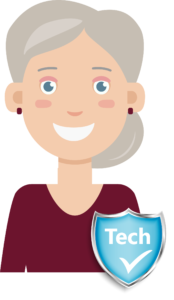 Our ambition here at MeemawTech is to promote accessible technology and gadgets that genuinely improve seniors' digital confidence & well-being.
We take a unique point of view from other technology websites; in that we pay particular attention to the abilities and needs of the elderly. For a better understanding of our review approach, have a look at our rating procedure.
We're a team of tech-enthusiasts with years of experience helping our own Meemaws, Pop-Pops, Parents, Grandparents, elderly neighbors and friends – so we've plenty of first-hand experience and understand what works well and what doesn't.